Today, I have a guest blogger, my dear friend, Cheryl Elton. Cheryl and I have been besties since we were teens. Cheryl is an accomplished writer and active Christian with many years experience teaching, counseling, and sharing God's truth with people of all ages and walks of life. She served several years on the mission field in a leadership role. A small business entrepreneur, she has also written and produced instructional DVDs for ice dancing. She and her husband, Richard, have two sons and live in upstate New York. She's also the author of an awesome book, Pathway of Peace: Living in a Growing Relationship with Christ. You can find her blog here. Today, she shares about God's Lavish Gift Giving.
With holiday time in full swing, it's interesting to consider the traditions associated with Christmas. What do decorated trees and wreaths, yule logs, Santa Claus, Christmas cookies, and jingle bells have to do with the birth of Christ?
Answer: Nothing!
What does December 25 have to do with the birth of Jesus Christ?
Answer: Nothing!
Research reveals that Jesus was actually born in the fall of the year. Almost all the customs of Christmas stem from ancient pagan festivals honoring other gods, and didn't begin until some 300 years after Christ's death.
And although the Bible records details about the birth of Jesus Christ, there is no record of anyone celebrating it.
So does God really care about all the hoopla surrounding Christmas?
Probably not.
Rather, He cares about our hearts.
Do we become so immersed with activity that we forget about Him? That in our busyness we lose the wonderful peace of His presence?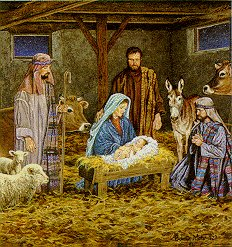 As we glean the good of the season—helping those in need, talking with others about Jesus at a time of year when needs surface, exchanging gifts with loved ones, appreciating family—may we remember God's most lavish gift to the world—His Son Jesus Christ.
Please enjoy the following excerpts from Ephesians 1*, reminding us of how special we are to God; the greatest gift, His Son; our wonderful calling to exemplify Christ to the world, and the joy we experience in His presence.
How blessed is God! And what a blessing he is! He's the Father of our Master, Jesus Christ, and takes us to the high places of blessing in him. Long before he laid down earth's foundations, he had us in mind, had settled on us as the focus of his love, to be made whole and holy by his love. Long, long ago he decided to adopt us into his family through Jesus Christ. He wanted us to enter into the celebration of his lavish gift-giving by the hand of his beloved Son. 

Because of the sacrifice of the Messiah, his blood poured out on the altar of the Cross, we're a free people—free of penalties and punishments chalked up by all our misdeeds. And not just barely free, either. Abundantly free! He thought of everything, provided for everything we could possibly need, letting us in on the plans he took such delight in making. He set it all out before us in Christ, a long-range plan in which everything would be brought together and summed up in him, everything in deepest heaven, everything on planet earth. 

It's in Christ that we find out who we are and what we are living for. Long before we first heard of Christ and got our hopes up, he had his eye on us, had designs on us for glorious living, part of the overall purpose he is working out in everything and everyone. 

It's in Christ that you, once you heard the truth and believed it (this Message of your salvation), found yourselves home free—signed, sealed, and delivered by the Holy Spirit. This signet from God is the first installment on what's coming, a reminder that we'll get everything God has planned for us, a praising and glorious life. 

That's why . . . I ask—ask the God of our Master, Jesus Christ, the God of glory—to make you intelligent and discerning in knowing him personally, your eyes focused and clear, so that you can see exactly what it is he is calling you to do, grasp the immensity of this glorious way of life he has for his followers, oh, the utter extravagance of his work in us who trust him—endless energy, boundless strength! 

All this energy issues from Christ: God raised him from death and set him on a throne in deep heaven, in charge of running the universe . . . no name and no power exempt from his rule. And not just for the time being, but forever. He is in charge of it all, has the final word on everything. At the center of all this, Christ rules the church. The church is Christ's body, in which he speaks and acts, by which he fills everything with his presence.
* From chapter one of Ephesians, Eugene Peterson, The Message (MSG)
Copyright © 2015 Cheryl Elton